Pudsey Day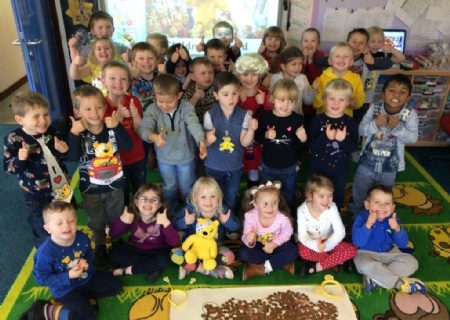 £324 raised for Children in Need
Pudsey day at Gonerby Hill Foot School was amazing! Everyone was dressed up in their best spotty outfits. One of our students, Amelia Rose, said that, " Pudsey Bear is a bear for Charity." She also quoted that, to raise money you could either go to a charity shop and buy a toy or you could have a sponsored chocolate eating challenge.
Why do we dress up on Children In Need Day?
We dress up to raise money for the charity Children in Need. Money raised helps to change the lives of young children all across the UK.
When Was Pudsey Bear introduced?
Pudsey bear was used as the Children in Need mascot in 1985 and has been used to this day. Pudsey bear was created by BBC designer Joanna Ball, and took his name from her home town in Yorkshire.
How much money has been raised to date?
An outstanding £600 million has been raised to help disabled and young children in the UK.
We raised £324 on the day and would like to thank everyone for their support.
The TV program
The first ever episode of Children in Need was on the 21st of November 1980. It was presented by the famous Terry Wogan and Sue Lawley on the BBC.
Reported by Daniel Kelly & Abigail Buckeridge, Y6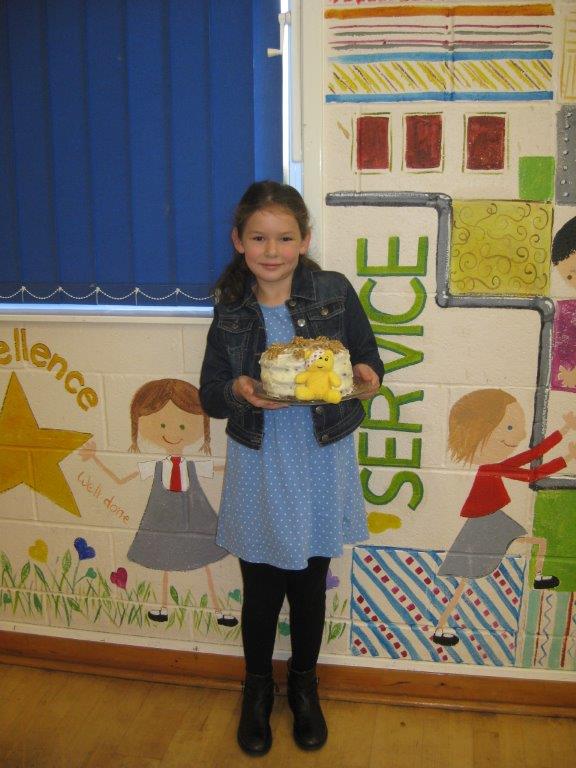 Over the last 5 years, my brother and I have helped to organize a cake stall for the Children in Need charity. We run the stall at the Great Gonerby Post Office with support from family and friends. This year, we had a record number of delicious cakes donated to the stall by the people from the village, family and friends. We had a lovely morning, and were well supported with lots of generous donations.
This year's total added up to an astonishing £945, taking our overall total to a whopping £4100!!!
Even the teachers got to enjoy a piece of yummy carrot cake made by my grandma.
As we were given so many cakes, we were able to deliver some to the church in town, which supports the homeless.
Maisie, Y5