Christmas Performances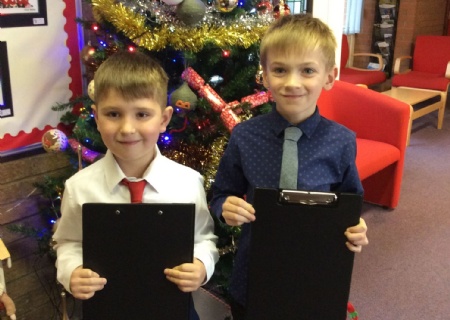 The infant pupils wow us with Christmas Counts and Tinsel and Tea-towels.
On Wednesday 12th and Thursday 13th of December, Reception and Key Stage 1 performed their Christmas plays.
Reception class performed Christmas Counts. This was about the nativity story and how Mary and Joseph travelled to Bethlehem with their donkey. Mary and Joseph struggled to find anywhere to stay and when Jesus was born, he was laid in a manger.
There were lots of songs sung during the play including 'Knock, Knock', 'We Wish You a Merry Christmas', and 'Rudolph the Red Nose Reindeer'.
Check out the Christmas Counts photo gallery here.
Key Stage 1 also performed their play, Tinsel and Tea-towels, which was about our school! The story of the play was about Ofsted inspectors coming to inspect our school and watching the children learn about the nativity. Mrs Stylianides was also featured in the performance, played by Charlotte, and Max and Freddy made great Ofsted inspectors.
We learnt a lot of facts about the Nativity during the play including Joseph and Mary travelling 70 miles to Bethlehem to have Jesus – this would have taken two days!
There were some great songs in the performance such as 'Tinsel and Tea-towels', 'Along to Bethlehem', 'Angels Singing', 'Three Very Wise Men', 'Part of a Heavenly Plan' and 'Come and Worship'.
We really enjoyed watching Reception and Key stage 1 during their plays and thought they put on fantastic performances.
Check out the Tinsel and Tea-towels photo gallery here.
By Abigail, Year 6