Spring Term Curriculum and Learning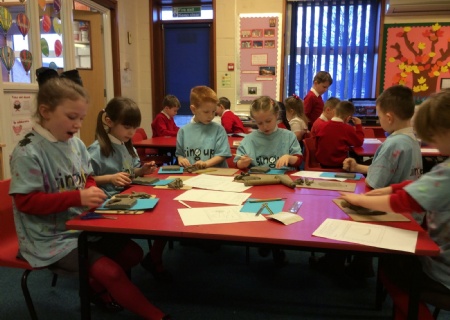 Information for parents about what pupils are learning this term.
Happy New Year! It is lovely to see all the children back in school after a super Christmas holiday.
We started the new term off with our Arts Week, focussing on a 'Love of Literature'. Each class has been developing their sculpture skills through a stimulus of Julia Donaldson texts and we have officially opened our new library. We are looking forward to showing off this work and all the work we do around reading, including the new library, to parents on the 17th January.
Here are the Big Questions and links to curriculum newsletters for parents with details of what the children will be learning this term.
Year 5/6 – Upper Key Stage 2 – Were The Greeks Really Groovy?
Year 3/4 – Lower Key Stage 2 – How did the Battle of Britain change history?
Year 1/2 - Key Stage 1 – Where would you prefer to live – England or Africa?
We are also looking forward to:
Y3/4 Paralympian sessions with Carl from Inspire+ - Wednesday 10th January
Y5/6 Groovy Greeks Morning - Wednesday 10th January
Y3/4 WWII Day – Monday 15th January
Y1/2 African Drumming Day - Wednesday 17th January
Young Voices at Sheffield – Thursday 18th January
Music for Schools Presentation for pupils on Mon 22nd January
Rotary Club Swimarathon – Saturday 3rd February
Safer Internet Day – Tuesday 6th February
Y1/2 Tennis Day provided by Grantham Tennis Club – Wednesday 7th February
Legacy Tour assembly - Wednesday 28th February
Y4 at Church Schools' Festival – Tuesday 20th March
Sport Relief – Friday 23rd March
Y3/4 Performance of Joseph and his Technicolour Dreamcoat – w/c 26th March
Easter Services – Wednesday 28th March
We have some open/information events for parents too:
'Love of Literature' and Library launch open eve for parents - Wednesday 17th January
Music for Schools Presentation for Parents at 6pm on Thursday 25th January
Parents' Evening – 20th and 21st March
Parents should also look out for an invite to their child's class assembly this term and details of clubs their child can attend.
Parents can keep up to date with school events via the School Calendar.