Summer Term Curriculum and Learning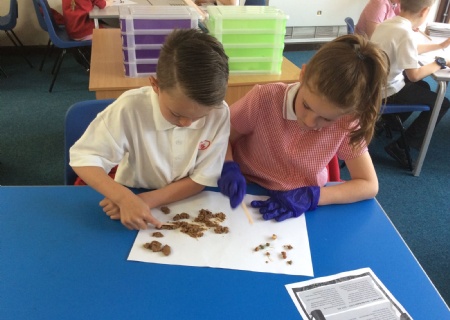 Information for parents about what pupils are learning this term.
Our new summer term topics are now underway and the children are already hooked. The Y1/2 children are busy finding out where the seaside is while the Y5/6 children are considering the fairness of punishments in Roman times. The Y3/4 classrooms are being invaded and the children are dissecting 'Viking poo'!
The lovely sunshine and warm weather has been very welcome and the children have been enjoying playtimes on the field. We do spend a lot of time outdoors in the summer term so it is important that pupils have sun hats and wear sun cream for protection. They also need trainers for their outdoor PE lessons.
Here are the Big Questions and links to curriculum newsletters for parents with details of what the children will be learning this term.
Class assemblies are on Thursdays at 9am and led by classes as follows:
Dahl – 2nd May
Blyton – 9th May
King-Smith – 16th May
Ahlberg – TUESDAY 21st May
Defoe – 6th June
Carroll – 13th June
Potter – 20th June
Carle – 27th June
Sendak – 4th July
McKee – 11th July
Here are events we are looking forward to this term:
Y2 SATs tests – throughout May
Y6 SATs tests – w/c 13th May
Y5/6 Galleries of Justice Trip - Monday 20th May
Dahl Class starts swimming – Tuesday 21st May
Class Photos – Thursday 23rd May
FSA Discos - Thursday 23rd May
Reception trip to White Post Farm – Wednesday 5th June
Book People Book Fair – starts Wednesday 12th June
Y3 at Mini-Olympics – Tuesday 18th June
Y4 Kingswood Residential – Wednesday 19th June
Infant Sports Day – Thursday 27th June
KS2 Sports Day – Friday 28th June
Y6 Secondary Transition Day – Tuesday 2nd July
Y5/6 Performances – Wednesday 10th July – 1:45pm and 5:30pm
Transition Day – Monday 15th July
Y6 Leavers Service – Thursday 18th July, 9:30am at St Seb's
Y6 Parents Gala Dinner – Thursday 18th July
Parents should also look out for an invite to their child's class assembly this term and details of clubs their child can attend.
Parents can keep up to date with school events via the School Calendar.