Super Sports Days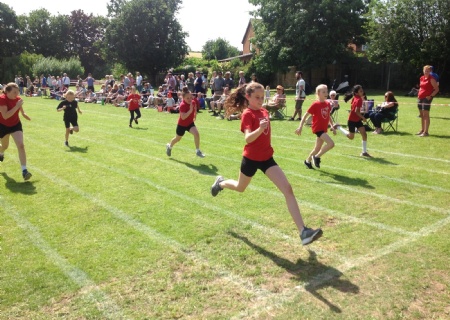 The sun shines as we get into the spirit of great sport!
On Thursday 27th and Friday 28th of June, the school held its annual sports day for Key Stage 1 and Key Stage 2.
It all started with Key Stage 1 who tried their best in all the different running, jumping and throwing activities. They tried especially hard to jump in the sacks. They ended their afternoon with sprint races and all their parents were really proud of them.
On the Friday morning, Key Stage 2 took part in lots of different activities on the field including tennis ball throw, javelin throw, egg and spoon race and balloon pass. It was great fun!
In the afternoon, parents joined us to watch us take part in our races. We had the obstacle, three legged, sack and sprint races. The house team with the most points was Barn Owls but most importantly, we all had fun and enjoyed our afternoon in the sunshine.
Click here to see the photo album.
By Iris, Lydia & Tia, Year 4