Arts Week 2020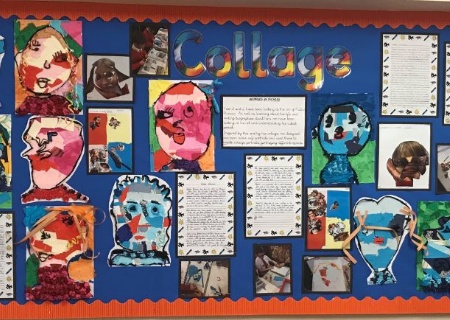 We kick started our new term with Arts Week at the beginning of January.
This week our Arts Week themes varied across each year group, but each of them begun with an artist focus that linked to a different aspect of Art. Reception developed their line drawing skills and drew beautiful sunflowers inspired by Van Gogh and Years 1 & 2 children were inspired by African Kente cloth patterns. They created some fantastic weaves and each class produced a colourful class cloth using different tie-dye patterns and plaiting techniques. Years 3 and 4 were stimulated by the work of Pablo Picasso. They did some amazing writing after researching his life and what inspired him and were inspired themselves to create collages of their own portraits using his iconic cubism style. Our Year 5 & 6 children took on the tricky task of creating 3D sculptures. Alexander Calder was their artist focus and they used his theme of recyclable waste to create their own sculptures using a range of joining techniques.
When you are next in school, take the time to look at our displays which decorate our hall corridors.
Written by Mrs Rhodes