Year 3/4 Performance — Pop News through the Decades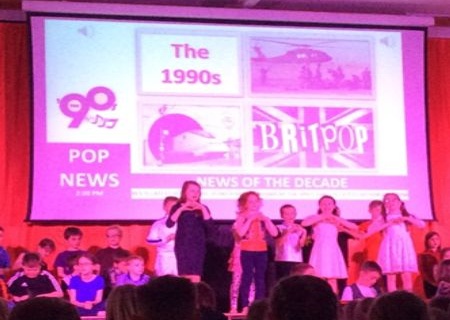 Y3/4 give the most rocking history lesson ever!
On Wednesday 29th March , Y3/4 performed to our parents, Pop News through the Decades.
It all began in what feels like months ago, where 3 songs were chosen for our 3 classes. In our class it was, 'Somewhere over the rainbow', 'Reach for the stars' and 'Mama'. Although, we would have liked to have chosen 'Pop Medley'. We got to choose which song we wanted to perform. We practised these as much as we could and learned some funky dance moves which had to be remembered off by heart!
Next, there were our costumes. For Somewhere Over the Rainbow it was, a coloured top or black leggings. Reach was either a shirt/t-shirt, trousers/skirt and for Mama, it was anything Spice Girls related, lots to choose from!
We performed to the whole school last week, they seemed to be really excited because they were joining in with the singing and doing the dance moves. It was amazing to see from the stage where we were. At the end we got some huge claps which made us feel really happy.
Then onto our main performance for our families and friends. We felt really nervous and we had butterflies in our tummies. The lights were on us as the performance began.
Song by song, we sang and danced, we tried our best to remember everything we learned. It seemed to go really well. We could see people in the audience singing along. Lewis's mum, was particularly fun because she was waving her hands around and whistling at the end when everyone was clapping. We even spotted Mrs Stylianides singing and dancing - what a treat! She was really getting in the mood and told us later that 'Save all your kisses for me' was her favourite song and begged Mrs Raistrick to ask us all to perform it.
At the very end, after we performed our very last song, Abba's Thank you for the Music, we received a rapturous applause! Our families and friends were on their feet, clapping, whistling and waving their hands at us. It was a very special moment to think that we'd made all these people feel very happy!
By Kyan Tree and Sai Mucherla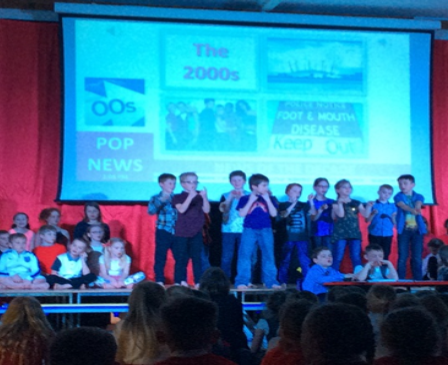 "I felt my lips quiver as I was about to sing" said Kyan.
"The decades that the songs came from where the 1930's to the 2010's. All the songs were energetically sung and the actions that went with the songs were all exactly the right speed and the flow of them was very smooth. Some of the favourite songs were: Somewhere Over the Rainbow from the 1930's and Mama from the 1990's." said Abigail B.
What a lovely performance today; we thoroughly enjoyed it! I think all the children did brilliantly and put a lot of energy into it. Isabel on stage singing Mama brought a tear to my eye! I think all the teacher need a big 'thank you' for all the hard work they put into the show. It was fantastic! Mrs Cox (Isabel's mum)