Roots to Food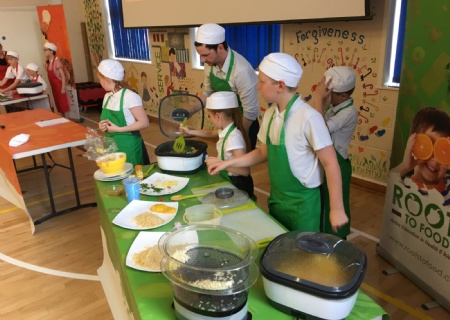 A fantastic day with fantastic recipes to try at home!
13th June 2017
The children had a fantastic time with Roots to Food today!
In the morning the infant children had a fab time in their 'Fun, Fitness and Food' workshops and they enjoyed tasting their delicious banana milkshakes afterwards.
The KS2 children loved the 'Ready, Steady, Cook' show in the afternoon and will be writing an article all about it for the newsletter. As promised to the children, the recipes they devised to for cooking are below so pupils can try making them at home. The Green Team's Tandoori Spiced Salmon with Pilau Rice and Bombay Saag Aloo was absolutely delicious but the Red Team's Twice Cooked Parmesan Chicken on a bed of Spring Onion Pasta served with a Chunky Tomato and Basil Sauce was the overall winning dish. Well done to both teams!
It was great to see parents at the demonstration afterwards. The really enjoyed the delicious healthy family meal made by Darren and his volunteers! It was so tasty and only about 90p per portion!
15th June 2017
All the KS2 children took part in cookery workshops - they loved it! They were brilliant chefs and made a delicious sweet and sour meatballs and stir fry dish. They were a little unsure if they would like it when they knew the ingredients but, probably because they made it, they wolfed it down! The recipe is below if you'd like to try it at home.
Some parents managed to get in on the action too and they came along to Food Tech class after school. Their children joined them and it is safe to say, they wowed their parents with their cooking skills! Everyone enjoyed a delicious dinner afterwards.
Click here to see the photo album.