Y3 go to the Mini-Olympics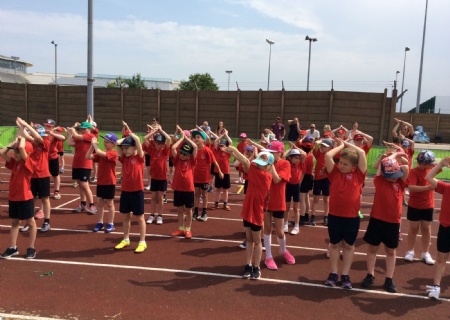 On Wednesday 21st June, Year 3 enjoyed a day out to the Mini Olympics at the Meres Stadium.
We left school, at 9:30am on a double decker coach and arrived soon after.
When we got there, we took part in the parade for the opening ceremony, which was very colourful because of the carnival theme. There were drums playing and world flags flying high, it was some atmosphere! Next, we watched as the brave skydivers flew into the stadium at speed, we thought one was going to crash into the tent because he was that fast. It was amazing!
After that, we went onto doing our activities. Netball was first, learning actions like, step, push and throw. Then it was learning gentle dance moves with the performers from the Royal Opera House, this was really calming and relaxing.
Relay racing was up next, with four teams racing up and down the track. It wasn't about the winning, it was all about the teamwork and taking part.
We decided to sit in the shade for lunch due to it being such a hot day. We had to drink lots of water, to keep ourselves cool. After lunch, there was even more dancing so we could practise for the closing ceremony.
Boccia was the next activity. It was a bit of a strange game, we hadn't seen it before. We had to split into 2 teams and try to hit the ball with our team coloured ball. It was fun.
Sam Ruddock and Elizabeth Cann were the 2 Olympians we met for autographs. There was no time for a chat but it was really great to see them both.
Our final activity was mini golf. Some children were hitting the ball through hoops, while others were aiming at a target. It wasn't the girls' favourite activity but the boys seemed to enjoy it.
The closing ceremony finally started, with a demonstration of freestyle football skills from Steven Carter. He was very talented. We did our 'Rat Dance' which we had practised earlier. It was wonderful watching everyone in the stadium perform at the same time.
Home time – We were hot and exhausted! We couldn't wait to get home after such an eventful and active day. It was a lot of fun and we all enjoyed it very much.
We hope next year's Year 3's have just as much fun.
By Christina Bull and Mrs Miller-Brown