Harvest Festival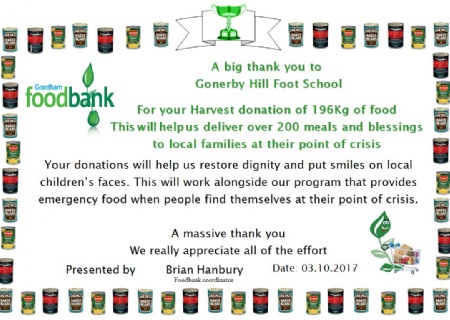 Harvest donations provide 200 meals for those in need.
On the 21st September, the school went to St. Sebastian's Church to attend a service, led by Mrs Stylianides and Mr Buckeridge, to celebrate the beginning of harvest. A lot of food was contributed and was taken to the local Food Bank.
When we arrived at the church, we sat down ready to start the service. Throughout the service, we sang some hymns that we had been practicing including Autumn Days, The Harvest Samba and All Things Bright and Beautiful.
After we had sang our hymns, children from different classes stood at the front of the church and read out some poems about autumn and harvest.
Mr Buckeridge also addressed the church and taught us that to give is better than to receive.
By Alicia, Y5
In addition to the super KS2 harvest service, we held a lovely infant service in school too. The singing was wonderful at both services and the new Reception children were especially impressive – you wouldn't have known they had only been in school a couple of weeks! We were also delighted to be joined by so many parents and grandparents at both services.
Thank you so much for all the food donations. The Food Bank were very thankful as we collected enough for 200 meals.