Darwin Rocks!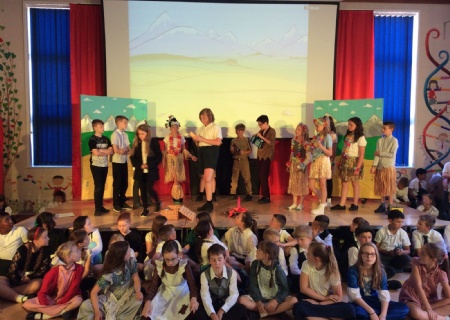 An amazing performance from Year 5/6 pupils
On Wednesday 11th and Thursday 12th of July, Years 5 and 6 performed their summer play Darwin Rocks. Darwin Rocks is a play about scientist Charles Darwin and the theory of evolution. Darwin believed that humans evolved from apes and spent his life working on proving his theory, which the play was all about. The play was also about his wife Emma Darwin.
In the play, we sang songs including the main tune Darwin Rocks, Tierra Delfeugo, Two Creations, Better Than a Dog, Life Will Find a Way and our favourite, Nothing Beats Being You. The Year 5's sang the songs and the Year 6's had the acting roles as it was their last school play. The Year 6's did a great job with their acting and the audience really seemed to enjoy it.
We all had a lot of fun joining in with the play and really enjoyed using the props and dressing up in costumes. It was a great way to end the Summer term.
Isabel, Year 5
Everyone agreed that the children were absolutely brilliant!