Autumn Term Curriculum and Learning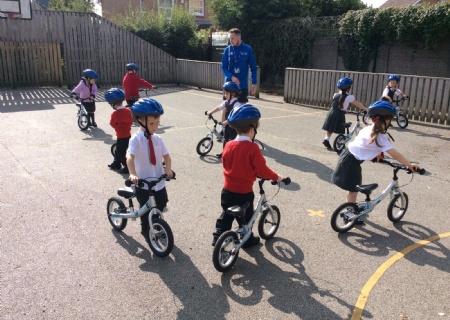 Information for parents about what pupils are learning this term.
We are really pleased with the super start that the children have made to the new school year. There are fantastic topics planned for this term, along with some exciting visits, such as Sudbury Hall for Y1/2 and the New Walk Museum in Leicester for Y3/4. Y6 are starting the year with an adventurous residential visit at PGL Caythorpe and our new Reception pupils will be learning cycling skills while doing Balanceability.
Below are the Big Questions and links to curriculum newsletters for parents with details of what the children will be learning this term.
Using ClassDojo, the teachers will also share 'knowledge organisers' which set out the key knowledge and vocabulary that pupils will learn in each topic. We hope that, over the topic, parents will look at these with their child (perhaps even test them on what they have learned occasionally) to help this knowledge stick in the children's minds so they recall it long after the topic has ended.
Class assemblies are on Thursdays at 9am and led by classes as follows:
Dahl – 26th September
Defoe – 3rd October
Carroll – 10th October
Lewis – 17th October
Potter – 31st October
Ahlberg– 7th November
Year 1 – 14th November
King-Smith – 21st November
Blyton – 28th November
Here are events we are looking forward to this term:
Y6 Residential Meeting for Parents – Monday 9th September, 6pm
Balanceability starts for Reception – Tuesday 10th September
Reception Reading Open Morning – Monday 16th September, 8:50am
KS2 Harvest Festival – Thursday 19th September, 9:30am in St. Sebs.
Infant Harvest Festival – Thursday 19th September, 11am in school
Y6 Caythorpe PGL Residential - Monday 23rd September
History workshops for Y5/6, Monday 30th September in school
Individual Photos – Wednesday 9th October
Guide Dog Visit for Y1/2 - Wednesday 9th October
Parents' Evenings – Tuesday 15th and Wednesday 16th October
School Nursing Team in for Flu Vaccinations (Rec to Y5) – Wednesday 16th October
Break up for half term – Friday 18th October
Staff InSET Day – Monday 28th October 2019
Pupils return to school on Tuesday 29th October
Y3/4 Leicester Museum Visit – Monday 4th November
Reception and KS1 Christmas performances – PM 11th and AM 12th December
Infant Pantomime Visit – Thursday 12th December
KS2 Christingle Service – Monday 16th December, 2pm at St. Seb's Church
Infant Christmas Service – Tuesday 17th December, 9:15am in school
KS2 Christmas Sing-along - Thursday 19th December, 2pm in school
Break up for Christmas – Thursday 19th December
Parents should also look out for an invite to their child's class assembly this term and details of clubs their child can attend.
Parents can keep up to date with school events via the School Calendar.