Phonics
Phonics is one method we use to teach children how to read and write. It's all about sounds which are called 'phonemes'. There are 44 phonemes in the English language, which we put together to form words.
Some are represented by one letter, like 't', and some by two or more, like 'ck' in duck and 'air' in chair. The written representations are called 'graphemes' and some phonemes have more than one grapheme. For example, the underlined sound in beach and tweet is the same but it is spelt differently. What is even trickier is that some graphemes have more than one sound like in book and moon.
Children are taught the sounds first, then how to match them to letters, and finally how to use the letter sounds for reading and spelling. Here is an information briefing for parents and carers:
At GHF, we follow the Letters and Sounds programme, and use Phonics Bug to support our teaching. This is supplemented by resources from Phonics Play and Jolly Phonics.
Initially children's listening skills are developed through the use of music, environmental sounds and rhyme. In Foundation Stage, children are introduced to phonemes linked to the letters of the alphabet, as well as one way of spelling each of the other 16 phonemes used in the English language, such as 'igh' and 'ch'. Children are taught to blend or sound out phonics to read a variety of words and segment or break down the sounds in simple words for spelling. Jolly Phonics gives children an action for each sound, which supports children who learn in an active way.
In Year 1, children learn more about the variety of ways in which each phoneme can be spelled and they also learn about the different pronunciations made by different letters or groups of letters, such as 'a' in 'ant' and 'was'. At the end of Year 1, children will be tested on their phonics knowledge, using a statutory national test featuring 20 real words and 20 pseudo-words. Parents will be informed if their children met the standard required for the test.
From Year 2 onwards, children consolidate their phonics knowledge, learning when to apply different spelling rules as well as how to spell plurals and different verb tenses. Children who did not meet the standard of the phonics test in Year 1, will repeat the test at the end of Year 2.
Help your child at home - click here to access the Parents section of Phonics Play.
More phonics help for parents.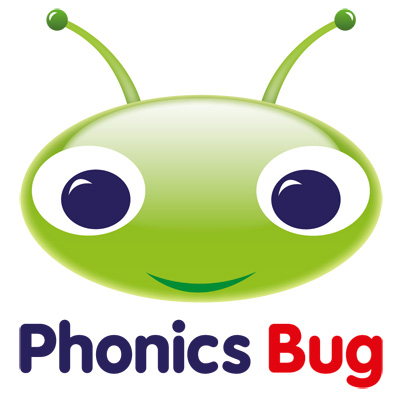 Phonics Bug eBooks
While in school, pupils practise reading words with the sounds they have learned using our Phonics Bug books. They read these in the classroom. We have subscribed to Phonics Bug online so that pupils can access the books at home too. This is an online resource packed full with eBooks that are 100% decodeable so that pupils will be able to read them independently by applying their phonic skills. Each eBook has audio narration to help with pronunciation when pupils are reading and includes tailored parent notes so parents can be sure they are supporting their child in just the right way. Class teachers will allocate these books to pupils as and when they learn the phonemes covered. They will inform parents when a phoneme is being learned and which book to use so they can help their child to practise reading at home.
In addition to the Phonics Bug books, pupils are allocated Bug Club books in their colour book banding. These are not 100% decodable and parents may need to provide some support to their child in reading them. These books encourage a love of reading through interesting stories and characters that may not always be possible with 100% decodable books.
All our pupils have a unique homepage which they can access Phonics Bug and Bug Club books via www.activelearnprimary.co.uk. Please note that this works best in Google Chrome or Mozilla Firefox web browsers. Details of how to login are sent home for each pupil and parents should contact us if they need help logging on.